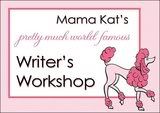 These are Mama Kat's writing prompts for this week:
1.) Describe a tragedy you didn't expect to be as deeply affect by as you are.
2.) Tell us about a day you were sure you wouldn't get through.
3.) A time when you should have listened to your mother.
4.) Your pets least likable character trait.
5.) 10 Reasons why you love your job.*************************************************************************

10 Reason's I Love My Job, and why this is the best job I've ever had.

1. I get to have lunch with my best friend everyday. We talk about everybody. We don't need no stinkin water cooler.
2. My boss always laughs at my jokes.
3. No dress code! Sometimes we spend all day in our jammies.
4. If I'm a little late, I get the stink eye but all is forgiven when I hand over the milk.
5. For the first time in my life, my boss isn't an asshole, generally.